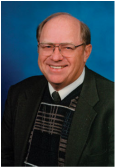 William (Bill) Pursley
Retired, Vice President, Food Safety Education, AIB International

Bill received his Master's Degree in Grain Science from Kansas State University. He joined the American Institute of Baking in 1975 as an inspector and worked in North East US and Canada. He later moved to AIB headquarters as Program Coordinator, then Director of the Audit Services and started the Food Safety & Defense Educational Department. During this time, Bill also was instrumental in establishing offices or co-associations with many countries including Europe, Japan, Latin America and China. Bill retired in 2012 as Vice-president of Food Safety at AIB International and has continued to teach and consult within the food industry. With over 35 years of experience in the industry, Bill was one of the leading Food Safety trainers in the U.S. and has conducted numerous training seminars and audits worldwide and is internationally recognized in this field.

Bill was awarded the George B. Wagner Award at the International Association of Operative Millers' (IAOM) 115th annual conference. This award recognizes outstanding contributions to mill sanitation and food safety and in September, 2003, Bill was inducted into the Food Engineering Hall of Fame.

Bill offers technical assistance expertise by providing both money saving and practical solutions to everyday problems that the food industry faces.
---