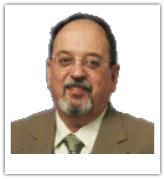 Alfred (Al) St.Cyr
is currently the Director of Education and Food Safety for Clark Pest Control in Lodi, CA.
Prior to joining the Clark team he was the Head of Food Safety Education for AIB where he developed training programs and provided seminars and consultation for Food Safety and IPM around the globe. Al has worked in the food and pest management industry for 35+ years as a consultant and educator. Al has worked in food plants developing and managing programs and is highly regarded as a problem solver with a practical approach to solutions.

Al's experiences focus on IPM, Sanitation, Sanitary Design and employee education. His work has taken him throughout Latin America, Japan, China, South Africa and Europe helping facilities move forward with their Food Safety programs. While at AIB he developed and presented courses to develop individuals for their role as plant sanitarians in the food industry.
---